Brooke Larsen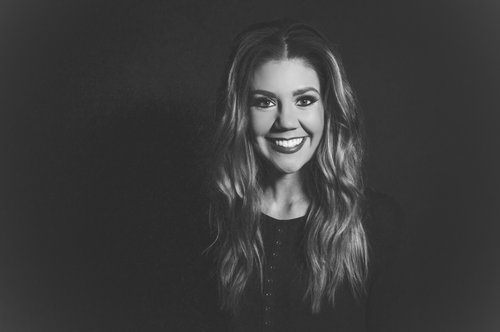 Year Graduated: 2018
---
Brooke Larsen is a senior graphic designer major from Marshall, Minnesota. As a child, she became very interested in art projects, crafts and painting which continued to develop as she grew older. People were impressed with her work and started requesting her to create a variety of different projects for them. She was featured in the Marshall Independent newspaper during high school because of her work and her freelance clientele.
When it came time to select a college and career, she decided to attend the University of South Dakota and major in elementary education because of her love for children. She soon realized that furthering her artistic abilities was something she wanted to pursue as a career instead. While attending USD, and pursing graphic design, she dual enrolled in the Iowa School of Beauty and received a nail technician license. This career helped her develop and express her creativity even further. Graphic design helped Brooke create a solid brand for herself in her nail career. From developing a logo, making business cards, to creating a website, graphic design was helping her market herself in a skillful way. When Brooke received a position as a nail technician in Vermillion, after graduation she helped design different publication designs for the business she was working for. This helped her determine that an art career was truly for her. Brooke's work is detail orientated and she spends a great amount of time on projects to make them creative and exceptional.
---
Artist Statement
This piece is a brand identity for a 2018 vintage themed wedding. Weddings in today's society are known for being particularly extra and extravagant. Brides striving to create a "dream wedding" is raising total expenses of weddings remarkably fast. Reality TV Shows like Say Yes To The Dress, My Big Fat Fabulous Wedding, and several other reality wedding shows have influenced our culture to try and create their "fairytale" style wedding. Many brides choose specific themes for their "big day," and "vintage" seems to be one of the most admired reoccurring themes of this era. If you were to google, "vintage wedding" your feed would be filled with beautiful modern brides in stunning lace dresses, neutral toned color palettes, and gorgeous flower accents. What you wouldn't see would be photos from couples' weddings from the past. Yes, social media and photo access was not established like it is now, but this "vintage" theme truly isn't an imitative style, but more its own singular standing style.
After helping with the decorating of my sister's wedding in 2014, I realized how much work and expenses it took to create a certain desired wedding look. I enjoyed the excitement of planning out a wedding and then bringing it to life. While looking back at my parents' old wedding photos, an idea arose. I had the idea to rebrand and recreate their wedding accessories as if it was 2018. I expended their color palette of white and blue with a few other added colors of my choosing and generated a logo for them. I then renovated their wedding invitations, program and created many other items that are usually included in today's wedding accessories. Custom bride and groom wine glasses, water bottle labels, stickers, labeled coasters and maid of honor and best man gifts were just some of the added accessories I created for their wedding. As a graphic designer I enjoy doing typography and branding work and very much enjoyed incorporating my wonderful parents and their special day into this piece.
---
PORTFOLIO