Cody James Robinson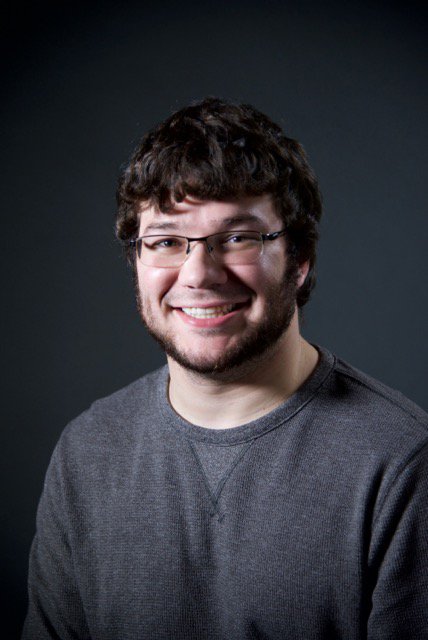 Year Graduated: 2018
---
Cody James Robinson was born in Sioux City, IA in 1993 on December 25th, Christmas day. He was first inspired by art through his mother, Christy Robinson; as a child he would watch her sketch images of superheroes and animals for him. Cody's family currently resides in Sergeant Bluff, IA. He was involved in art through high school and Western Iowa Tech Community College (WITCC) and went on to receive his BFA (Bachelor of Fine Arts) from the University of South Dakota, where he met sculptor/sculpture professor, Chris Meyer, who was an inspiration to him to become a sculptor.
As an undergraduate, Cody developed an interest in many different styles of art, including Abstract Expressionism, Expressionism, Surrealism, and Earth based artwork. He incorporates these styles in his artwork to this day along with other styles he is experimenting with, such as Kinetic, Minimalism, and Optic Illusion art. Cody was involved in two exhibitions, one in 2016 at Mount Marty College in Yankton, South Dakota and the other at Exposure Gallery in Sioux Falls South Dakota where he displayed some of his sculptures. He mainly works in metal fabricated and resin cast sculptures. His future goal is to own a scrap yard where people can drop of junk metal they don't want/need where he will make fabricated sculptures from said junk metal.
---
Artist Statement
The subject of my work is about plant life, minerals, and metals that are indigenous to a planet different from ours, but has the same types of elements such as gold, silver, obsidian, etc… What you are seeing is an excavation site from explorers of Earth, where they have uncovered and discovered life from this distant, yet similar, planet.
The concept of my projects was to create organic shapes out of geometric materials, which in this case are nuts and bolts. Nuts and bolts have been around before the documentation of history. They have been used as a means to build massive architectural structures ranging from skyscrapers to houses. In contrast to that I have decided to build my own structures that have no use to them. I have always been interested in mechanical organisms and I believe that including other types of mechanical parts in my work I hope to expand on this subject matter.
---
PORTFOLIO