Emma Johnson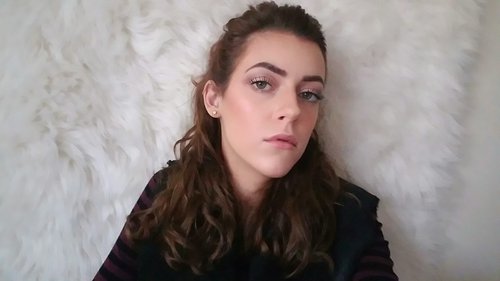 Year Graduated: 2018
---
Emma Johnson was born and raised in Sioux Falls, South Dakota. After making the suspect decision to study ceramics at the University of Nebraska-Lincoln, Johnson transferred to the University of South Dakota where she began pursuing Printmaking. While studying at USD, Johnson became interested in a number of different methods for creating work such as latch hooking and most recently, painting. Her inspirations and areas of research include gender and queer theory, feminism, craft theory, sex education, and art history.
While at USD Johnson has shown work in a number of group shows both in Sioux Falls and Vermillion, and recently had her first solo show exhibited in the Mezzanine gallery here at USD. Johnson will graduate with a Bachelors of Fine Art and a minor in Art History this May, after which she plans to take (some much needed) time off to work and apply to graduate schools.
---
Artist Statement
In artist Emma Johnson's series, "I turned out alright," Johnson explores the role of the bathroom in the lives of young women. While bathrooms are frequently associated with ritual and privacy, Johnson's oil paintings argue that the bathroom serves a much larger role to girls navigating a society where their form, sexuality, and anatomy are taboo. Thus, these painting serve to acknowledge the bathroom as a critical location for women to explore, scrutinize, accept and identify their own bodies. While this series presents four figures, the canvases serve as cells, isolating each woman within her own unique experience. The title of these works ("I turned out alright") further emphasizes how every woman is a survivor of her own experience, especially in a society which continually fails to acknowledge and educate women about their own bodies.
---
PORTFOLIO